Just Getting the Hang of Things...
Hey there,
I'm Kelly. I was just admitted to the BFA program at SJSU. I'm not sure what to say here other than "Hi" and "Hello" and, for those of you that prefer more formal greetings, "Good Morrow."
I'll post some of my art here now. These pieces are from last year, but I want to get a hang of this posting thing. Don't worry... this is only a test.
Self-Portrait from 112A: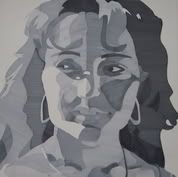 Color Rendering from 113A: